Video-0835 Supreme Master Ching Hai on the Environment: (1) Eden on Earth through Vegetarianism (2) Spreading the Vegetarian Solution
No. 0835
Category / Video Conference
Event date / 2008.06.12,2008.07.06
Place / (UK) Surrey:(USA) Seattle

Language / English
Time (mins) / 79
Published date / 2009.07


Smartphones

/ Aulacese,Chinese-S,Chinese-T,English,Spanish |

Tables

/ Aulacese,Chinese-S,Chinese-T,English,Spanish |

PCs

/

English,Chinese-S,Chinese-T,Aulacese,Korean,Japanese,Indonesian,Thai,Hindi,Persian,Arabic,Russian,Bulgarian,Hungarian,Croatian,Czech,German,French,Italian,Spanish,Portuguese,Polish

If you have any questions regarding downloading or website use of EdenRules, please contact us.
You are welcome to download audio and video files for free of charge
During a teleconference with the London Center, Supreme Master Ching Hai described Eden on Earth if the entire planet became vegetarian: "Good effects will be felt in 60 days. There will be a sudden peace and sudden realization of sameness between all nations, all humans, and between humans and animals..."
During her conference with the Seattle Center, she provided advice on how to effectively convince people to become vegetarian: continue to spread the SOS and Alternative Living fliers and write to the government and people with power. She also answered many other questions with her unique knowledge and insight.

Books for Online Reading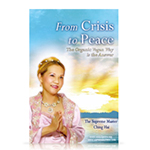 Books for download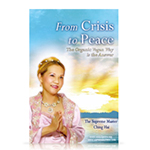 From Crisis to Peace: The Organic Vegan Way is the Answer