Video-0841(1.2.3) Climate Change International Conference—Supreme Master Ching Hai with Hollywood Celebrities
No. 841
Category / Video Conference
Event date / 2008.07.26
Place / (USA) Hollywood, CA

Language / English
Time (mins) / 85,107,70
Published date / 2009.02


Smartphones

/ Aulacese,Chinese-S,Chinese-T,English,Spanish |

Tables

/ Aulacese,Chinese-S,Chinese-T,English,Spanish |

PCs

/

Arabic,Aulacese,Bulgarian,Chinese-S,Chinese-T,English,Finnish,French,German,Hindi,Hebrew,Hungarian,Indonesian,Italian,Japanese,Korean,Persian,Polish,Portuguese,Romanian,Punjabi,Russian,Spanish,Thai,Turkish

Download

&nbsp

If you have any questions regarding downloading or website use of EdenRules, please contact us.
You are welcome to download audio and video files for free of charge
In this spectacular interactive Hollywood event, shown live to a global audience on Supreme Master Television, an exceptional gathering of scientists, politicians, media, Hollywood producers, and interfaith leaders joined together with a star-studded line-up of speakers that included: international author Howard Lyman, natural medical and nutritional specialists, Dr. Gabriel Cousens and Dr. Will Tuttle, to discuss the rarely broached relationship between climate change and our everyday food choices.

The conference opened with a beautiful, heartfelt Lakota prayer followed by a powerful address by former United Nations Director, Dr. Ashok Khosla. With Emmy award-winning journalist, Jane Velez Mitchell as the vibrant MC and special, honored guest—world renowned humanitarian Supreme Master Ching Hai—sharing her wisdom and insights, the room is left buzzing with compassionate inspiration. The audience is so moved by the multitude of positive effects a vegetarian diet has to curb global warming that many people attending vowed never to eat meat again!

Books for Online Reading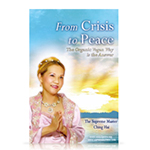 Books for download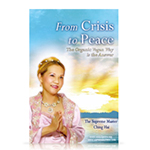 From Crisis to Peace: The Organic Vegan Way is the Answer