Video-999 (1.2.3) "The Real Love" ─ The Musical for Supreme Master Television's 5th Anniversary
No. 999
Category / Entertainment
Event date / 2011.08.27
Place / (USA)

Language / English
Time (mins) / 170,117,142
Published date / 2012.05


Smartphones

/ Aulacese,Chinese-S,Chinese-T,English,French,Spanish |

Tables

/ Aulacese,Chinese-S,Chinese-T,English,French,Spanish |

PCs

/

Arabic,Aulacese,Bulgarian,Chinese-S,Chinese-T,Czech,Dutch,English,Filipino,French,German,Hebrew,Hindi,Hungarian,Indonesian,Italian,Japanese,Korean,Malay,Mongolian,Persian,Polish,Portuguese,Punjabi,Russian,Spanish,Swedish,Tamil,Thai,Urdu,Zulu

Download

&nbsp

If you have any questions regarding downloading or website use of EdenRules, please contact us.
You are welcome to download audio and video files for free of charge
Summary
You May Also Like (3)
"An Oscar-winning composer has given life now to a brand new musical." (KCAL Channel 9)
"Supreme Master TV has made an impact on the Hollywood scene." (Pasadena Weekly)
"It's a phenomenal creative company put together." (K-Mozart)

The Real Love:
The world premiere of this unique musical is here to experience in all its grand excitement. Relive the unforgettable love story of Thanh, a tender-hearted Aulacese (Vietnamese) woman helping war-torn refugees, and the handsome German physician Rolf. From Âu Lạc (Vietnam) to Germany and into the deepest reaches of the Himalayan mountains, Thanh goes on an adventurous journey of self-discovery, spirit and love. Original music by Academy, Grammy, Tony and Emmy Award-winning composers; Tony and Academy Award-winning stars in a 38-member company; and a 21-piece orchestra.

This three-disc edition also includes a videoconference with the guest of honor Supreme Master Ching Hai, a special gift presentation to six charities, and concert by American icon Don McLean.

Never before has an event united Broadway and Hollywood – and above all, bring hearts together – like THE REAL LOVE!
-Lyrics based on poems by SUPREME MASTER CHING HAI
Book by FRANK EVANS & TOM SHELTON
Produced by PETER PEACE, PAULA HOLT, DOUG KATSAROS
Associate Producer TOM WARE
Directed by CHRIS SHELTON
Music Director David O
Choreographer MARK KNOWLES
Casting Director MICHAEL DONOVAN, CSA
Lighting Designer DARRYL PALAGI
Costume Designer KATE BERGH
Set Designer GARY WISSMAN
Projection Designer JASON THOMPSON
Sound Designer CRICKET S. MYERS
Music by
-BILL CONTI :Academy & 5-time Emmy Award winner
-AL KASHA: 2-time Academy Award winner
-DOUG KATSAROS: Emmy Award nominee
-DON PIPPIN : Tony & Emmy Award winner
-DAVID SHIRE: Academy & 2-time Grammy Award winne
Starring
-JOANNA AMPIL
-DAISY EAGAN: Tony Award winner
-CADY HUFFMAN: Tony Award winner
-ADAM PASCAL: Tony Award nominee
-ROBERT TORTI: Tony Award nominee
Guest Stars
-BETTY BUCKLEY: Tony Award winner
-FILIPPA GIORDANO
-SHIRLEY JONES: Academy Award winner
-TRENT KOWALIK: Tony Award winner
-KIRIL KULISH: Tony Award winner
-FAITH RIVERA: Emmy Award winner
-TOM SCHMID
-DICK VAN PATTEN
MASTERS of CEREMONIES
-4-time Emmy nominee GRANT ALEKSANDER
-KRISTIN BAUER
-6-time Emmy nominee ED BEGLEY,JR
-ELAINE HENDRIX
-HAYLEY MARIE NORMAN
Contents
Overture
What Can I Do with My Heart
Yearning for Past Spring
You and the Kingdom
Moon of Mine
I Believe Only in Love
Since We Knew Each Other
I Believe Only in Love (reprise)
Weekend Thoughts
On the Riverbank Disco
Self Confession
Search High and Low
For the One Who Stayed Behind
Welcome to India
The God Seeker
P.S. Till Tomorrow
Do You Miss Me, Darling
On the Riverbank
If It Wasn't for Sprouts in Life
Our Time
Ganga Ma
The Peace Seeker
Don McLean
Books for download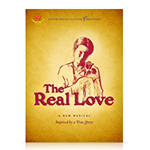 The Real Love (program booklet)