Video-1010(1~4) Loving The Silent Tears The Musical
No. 1010
Category / The Supreme Master's Music:The Supreme Master's Poetry
Event date / 2012.10.27
Place / (USA) Los Angeles, CA

Language / English
Time (mins) / 85,115,129,104
Published date / 2014.09
Updated date / 2015.05

Smartphones

/ Aulacese,Chinese-S,Chinese-T,English,Spanish |

Tables

/ Aulacese,Chinese-S,Chinese-T,English,Spanish |

PCs

/

Arabic,Aulacese,Bulgarian,Chinese-S,Chinese-T,English,French,German,Hebrew,Hindi,Hungarian,Indonesian,Italian,Japanese,Korean,Malay,Mongolian,Persian,Polish,Portuguese,Punjabi,Russian,Spanish,Thai

Related Video/Audio/

M038A Loving the Silent Tears (The Musical) Original Cast Recording, M038B Loving the Silent Tears (The Musical) Live Cast Recording

Download

&nbsp

If you have any questions regarding downloading or website use of EdenRules, please contact us.
You are welcome to download audio and video files for free of charge
Summary
You May Also Like (4)
Inspired by Supreme Master Ching Hai's profound poetry collection Silent Tears, this spectacular musical takes us on a magical train ride to 16 countries across 6 continents. We accompany Joy, a bitter, bereaved mother, and Pete, a worldly coming-of-age youth. Guided by a jovial and mysterious conductor, they're in for the journey of their lives – each to find a new kind of peace. At every destination, enjoy breathtaking musical numbers by Academy, Grammy, Tony and Emmy Award-winning composers, performed by Broadway and pop music stars, top international singers, 48 top-notch dancers, and a live orchestra!
Directed by Tony nominee Vincent Paterson (Michael Jackson's and Madonna's world tours) with choreography by Emmy winner Bonnie Story (High School Musical 1, 2, 3), this extraordinary world premiere involved the expertise of a 217-person technical crew and was captured by 21 cameras and 96 digital audio channels on October 27, 2012 at the grand Shrine Auditorium in Los Angeles, California, USA.
The show commemorated the 19th Anniversary of Supreme Master Ching Hai Day, which honors the spirit of peace and giving as exemplified by the world-renowned spiritual teacher, humanitarian, poet and artist.
These four videos/audio include a greeting from the poet, a charity gift presentation, artist interviews and amazing bonus features.
LOVING THE SILENT TEARS is sure to inspire us all to find our inner peace!
PART 1
The Red Carpet
Aerialists Opening:
Dream World Cirque
Government Commendation:
California State Senator Curren Price, Jr.
Guest Speaker:
George Chakiris
Video Greeting:
Supreme Master Ching Hai
Loving the Silent Tears:
The Musical - Act I
PART 2
Loving the Silent Tears:
The Musical - Act II
Video Presentation:
Supreme Master Ching Hai Day
Charity Gift Presentation:
Broadway Cares/Equity Fights AIDS
Animal Defenders International
Worldwide Veterinary Service
Celebration Finale:
"Take Each Other's Hand"
The Vegan Banquet
PART 3
BONUS
The Making of
Loving the Silent Tears
The Art Exhibition
The Inspiration
PART 4
BONUS
Media Coverage of
Loving the Silent Tears:
Part 1 - Pre-Event Media Reports
Part 2 - Post-Event Media Reports
Contents
Never Set Foot
The Inner Master
Accept Me the Way I Am
Make a Deal
Singing Praise
Your Eyes, Your Ears, Your Heart
No Place for You
Monkey Mind
Talking to a Stone Buddha
The World Is a Whirlpool
Eternal Game
All Love, All Forgive
Initiation
Between the Master and I
Truth, Ego, Soul and Blessings
A Real Fool
Enlightenment
Loving the Silent Tears
Take Each Other's Hand
Books for download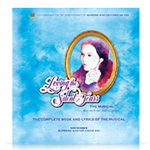 Loving The Silent Tears: The Musical(1)
(Complete Book and Lyrics)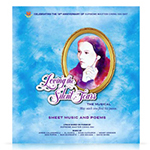 Loving The Silent Tears: The Musical(2)
(Sheet Music and Poems)